In 1941, the Los Angeles Department of Water & Power (DWP) began diverting water from Mono Lake's tributary streams, sending it 350 miles south to meet the growing water demands of Los Angeles.
As a result, over the next 40 years Mono Lake dropped by 45 vertical feet, lost half its volume, and doubled in salinity.
Thanks to successful citizen advocacy, a set of rules governing DWP's water exports, and snowy Sierra Nevada winters, Mono Lake is on the rise. Raising the lake to 6392 feet above sea level is critical to the lake's ecological health, and the single most important metric for restoring Mono Lake.
Mono Lake's current level is 6379.9 feet above sea level.
Management level
Mono Lake is rising to 6392 feet above sea level, which is the management level set by the California State Water Resources Control Board's Decision 1631 in 1994.
The management level was chosen for several reasons:
reduce the lake's salinity so that a healthy ecosystem can thrive
improve air quality by covering much of the exposed dry lakebed, thereby reducing toxic dust storms
protect California Gull nesting islets from on-shore predators with a substantial moat of water
leave scenic tufa towers exposed around the shoreline
As of October 2021 Mono Lake is more than 12 feet below the management level.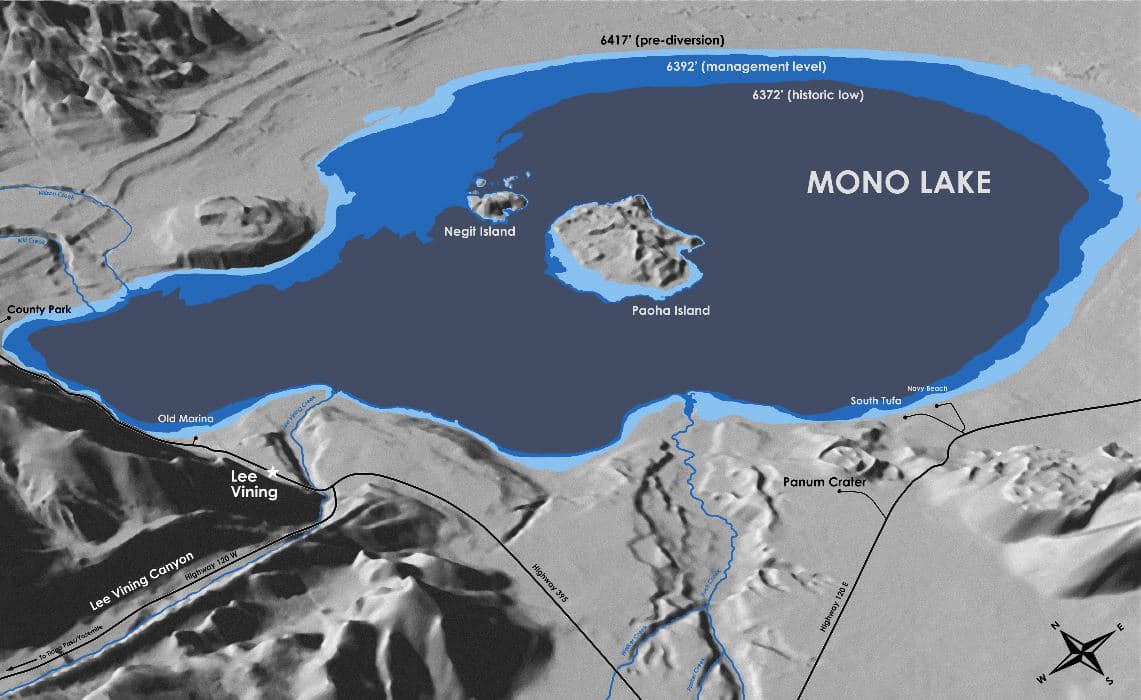 Mono Lake Level
| Level (feet above sea level) | Date/significance |
| --- | --- |
| 6427 | 1919 |
| 6417 | 1941 |
| 6392 | future management level |
| 6391.0 | target/trigger |
| 6385.1 | highest level reached since 1994 |
| 6381.8 | 9/1/2020 (1 year ago) |
| 6380.6 | 8/1/2021 (1 month ago) |
| 6380.2 | 9/1/2021 (recent) |
| 6380.0 | trigger: April 1st export restriction |
| 6377.0 | trigger: minimum level |
| 6374.6 | 9/28/1994 (D-1631 was issued) |
| 6372.0 | Lowest level (1/1/1982) |
Lake level export rules
In addition to setting the management level, the State Water Board also set water export rules for DWP that depend on Mono Lake's level.
When Mono Lake is between 6380 and 6391 feet above sea level, DWP can export 16,000 acre-feet of water a year. If the lake drops to between 6377 and 6380 feet, DWP's exports are reduced to 4,500 acre-feet of water a year. And if Mono Lake is below 6377 feet, DWP cannot export any water.
In 2020, DWP was allowed to export 16,000 acre feet of water to Los Angeles.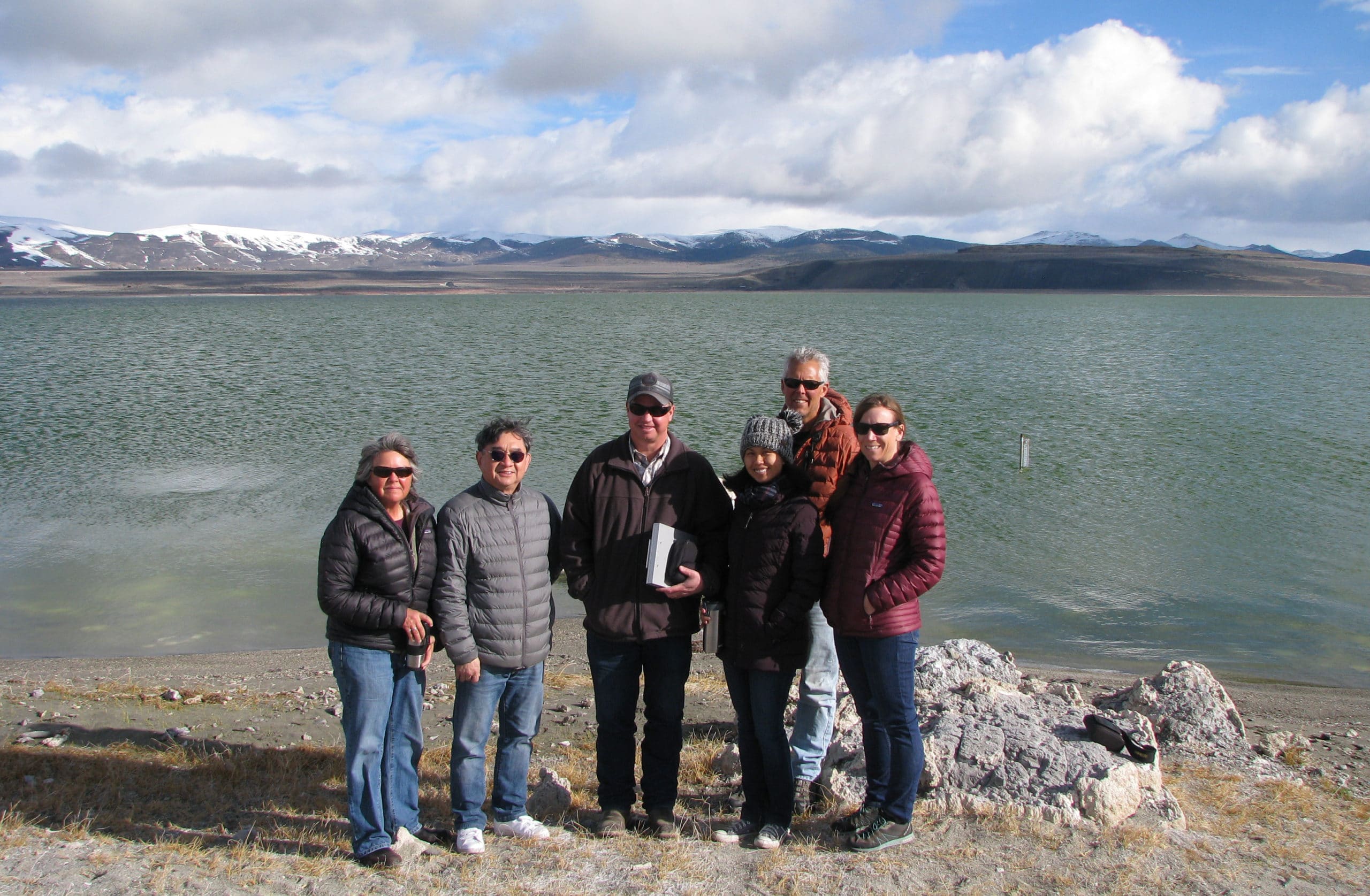 Target level
Once Mono Lake rises to the target level of 6391 feet above sea level, a new set of rules will apply to DWP's water exports.
When Mono Lake is above 6391 feet, DWP will be allowed to export all water (estimated to be 30,800 acre-feet on average) in excess of required streamflows (89,000 acre-feet). If the lake is between 6388 and 6391 feet, DWP will be allowed to export 10,000 acre-feet of water. No water exports will be allowed if the lake drops below 6388 feet.
When will Mono Lake reach the management level?
Dependent on snowy winters
Mono Lake's level depends mainly on snow that falls on the Sierra Nevada in winter and melts during warmer months. Other, much smaller, sources of water include groundwater inflow and direct precipitation onto the lake.
Changes in Mono Lake's level correspond fairly closely to wet and dry years. After big winters like 2005 and 2006 it can rise quickly, and during dry years it falls. The lake's progress since the 1994 State Water Board decision has not been a straight-line trajectory, but long-term, it is mandated to rise.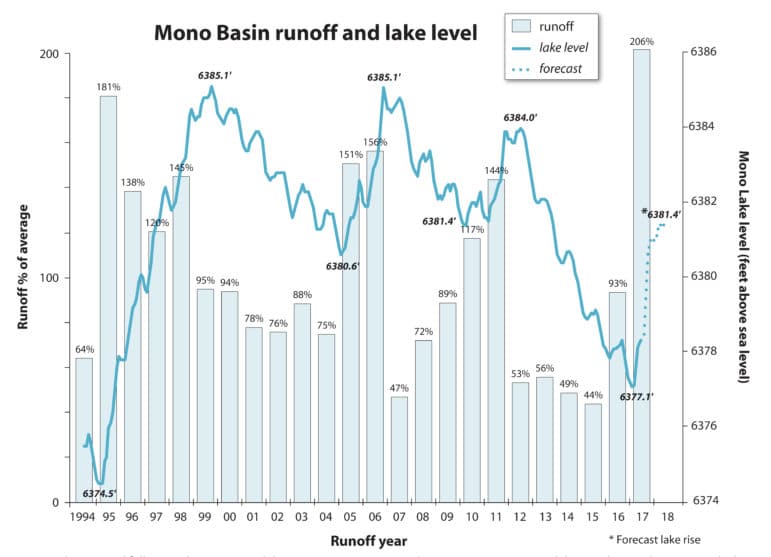 In 1994 the State Water Board projected that it would take about 20 years for Mono Lake to reach the management level, but in 2014 the lake still had nearly 13 feet to rise, in part because of a severe drought (see below). Overall, it is taking much longer for Mono Lake to reach the management level than anyone expected, and the Mono Lake Committee is monitoring and studying this closely.
2012–2016 drought
The recent drought affecting California and much of the Western United States brought multiple very dry winters to the Sierra Nevada. Snowpack percentages were some of the lowest on record, ranging from 44% to 56% of average.
The drought caused Mono Lake to drop seven feet in five years, which was the biggest setback in the progress toward the management level since it was set in 1994.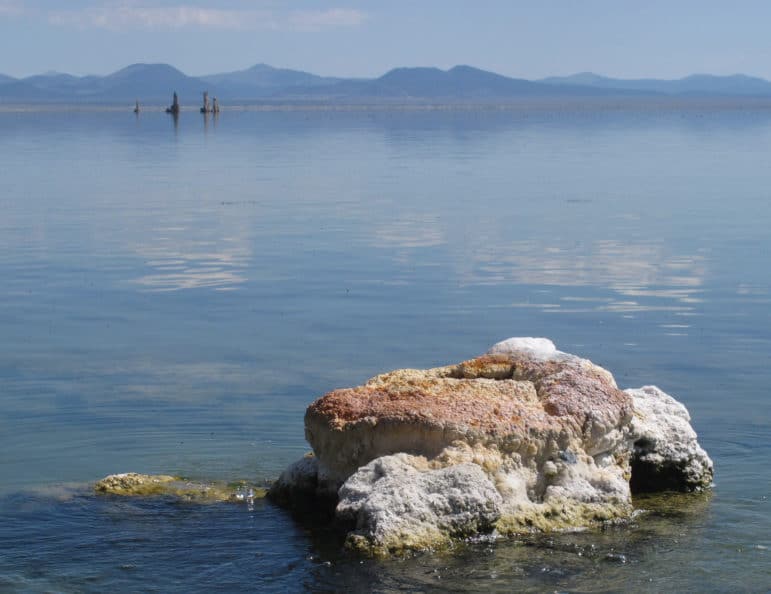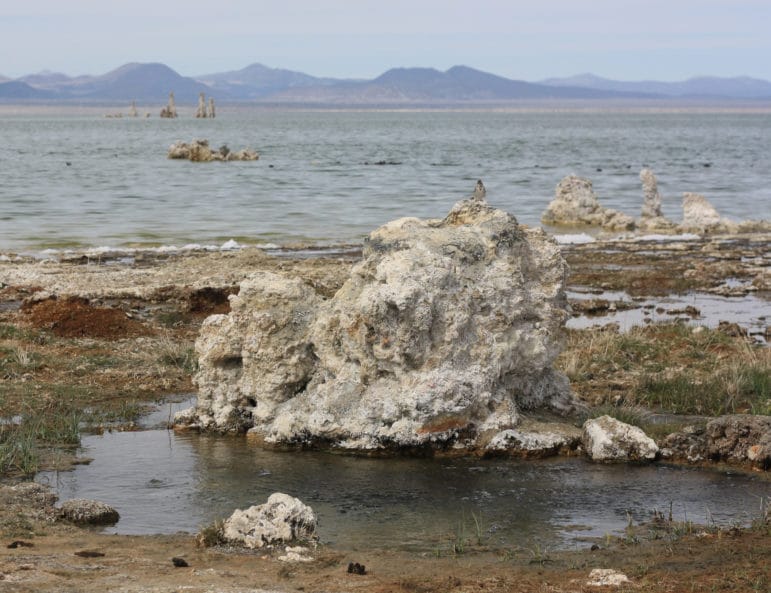 2017 wet year and lake rise
The drought ended with the record winter of 2017, when 206% of average snowpack accumulated in the Sierra Nevada. When that snow melted and flowed down Mono Lake's tributary streams, the lake rose four vertical feet in just one year!
2017 showed again that Mono Lake can rise rapidly after big winters, like it did in 1969, 1983, and 1995. However, for each vertical foot the lake rises, a larger volume of water is required to raise it subsequent feet, so it will rise more slowly the higher it gets.
Factoring in climate change
When the State Water Board set the management level back in 1994, no one foresaw how climate change would affect the rate of Mono Lake's rise. Since record keeping began in the mid-1800s, weather patterns affecting the lake had brought reliably snowy winters to the Sierra Nevada, and it was assumed that would continue.
In the years since, it has become clear that weather patterns are shifting due to climate change, and expecting it to take 20 years for Mono Lake to reach the management level—while a good estimate at the time—wasn't realistic.
Going forward, scientists predict more variable swings in weather, with periods of drought interspersed with very wet, snowy winters. As average temperatures rise, more precipitation is predicted to fall as rain instead of snow, and snow that does fall will melt earlier in the year.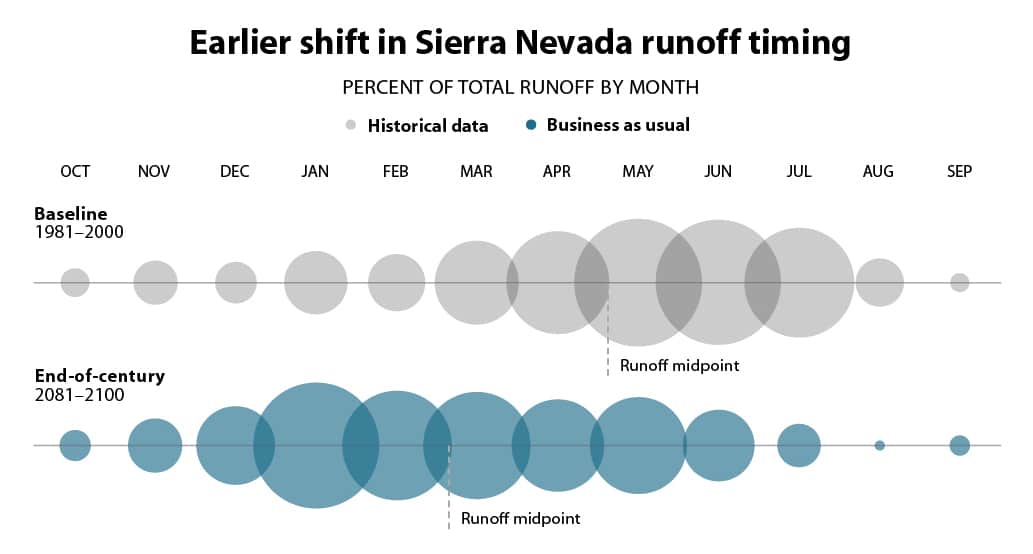 Due to the Mono Basin's high elevation, the runoff shift here starts farther to the right and won't be as extreme as shown for the Sierra Nevada as a whole. The Mono Basin is a showcase for evidence of past climate change—the climate is always changing, and Mono Lake's elevation is very sensitive to those changes. But as the effects of rapid anthropogenic climate change continue to be better understood, we must factor them into our understanding of Mono Lake's rise given our dedication to seeing the lake reach the management level of 6392 feet above sea level.
Mono Lake on the rise
Top photo by Robb Hirsch.